Hey Jessillionaires
We clearly have a serious issue with wealth inequality; the fiat money system has failed the majority of people with more millionaires and billionaires than we've ever seen, yes that is due to the absolute number of currency now available. Still, even so, if we divvy it up among the population, it's a small percentage of the world sitting on a vast majority of the world's wealth.
While we can argue about how currency is being used and host of other issues, what I have a big problem with the millionaire monopoly that it only gives a few people the ability to create goods and services for the rest of us.
Small businesses don't stand much of a chance; the ability to earn your way into millionaire status by pleasing the market and giving customers value is fast evaporating. You only have to look at YouTube to see how far we've fallen as a society, with so many people selling courses on how to get rich quick, getting rich on selling the courses but never actually creating a business that got them rich in the first place.
It's mind-numbingly stupid how we waste money in a fiat-based system; no one values money they want what money buys them, so we throw it around without a second thought because of its losing value and burning a while in our pockets.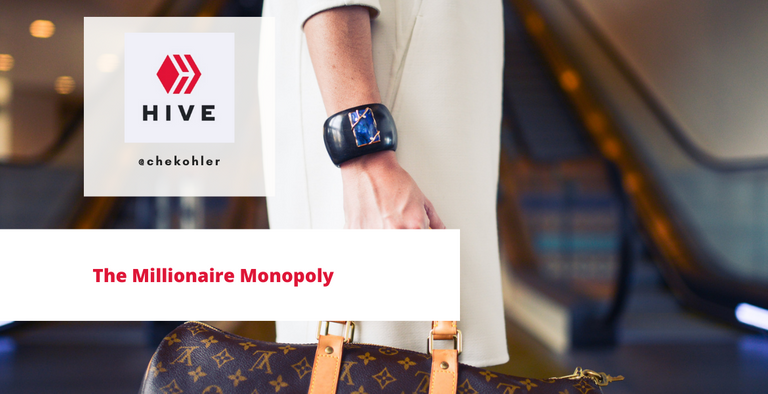 Millenial millionaires
The ability for most of us to get funding for our business is getting slimmer, the ability to work your way to millionaire status is getting slimmer, wages don't keep pace, and only a select few are going to have business ideas that are scalable enough that investors will come on board.
Real estate, bonds and stocks are at all-time highs, so trying to get into these markets with the idea of getting rich is highly unlikely too. Which is why I firmly believe crypto needs to make more millionaires.
It's the only scalable solution we have that can actually turn people into millionaires in a short space of time. If we can create more millionaires in the younger generations, we give them capital that allows them to start businesses, to get on the property ladder, to take risks, pay off student debt, and give big business competition.
The distribution of millionaires
It's no secret that most millionaires and billionaires are from developed nations, while there are a few in developing nations, they're usually wealth extracted through government corruption and creating an oligarchy class and not through free selling of goods and services.
These oligarchs also suppress any competition for their market and maintain monopolies at the detriment of the people of their country. If crypto starts to make millionaires in countries in Africa, in South America, in South East Asia, it may help even the playing field.
Getting much-needed capital into parts of the world where labour and natural resources go untapped.
The fact is crypto millionaires are needed, not for Lambos, but to actually put the rest of the world to work. To bring new ideas to the market, to generate more efficacy, to tap into the potential of the humans that have been left behind by the debt-based fiat Ponzi system.
Have your say
What do you good people of HIVE think?
So have at it my Jessies! If you don't have something to comment, comment "I am a Jessie."
Let's connect
If you liked this post, sprinkle it with an upvote or esteem and if you don't already, consider following me @chekohler and subscribe to my fanbase
| Browse & Earn Crypto | Deposit $100 & Earn $10 | Earn Interest On Crypto |
| --- | --- | --- |
| | | |
---