Dalz Is Now A Hive Witness! | Here for the long haul!

This an announcement post for my witness!
What a better time to show commitment to a project when a bear market is in full swing 😊.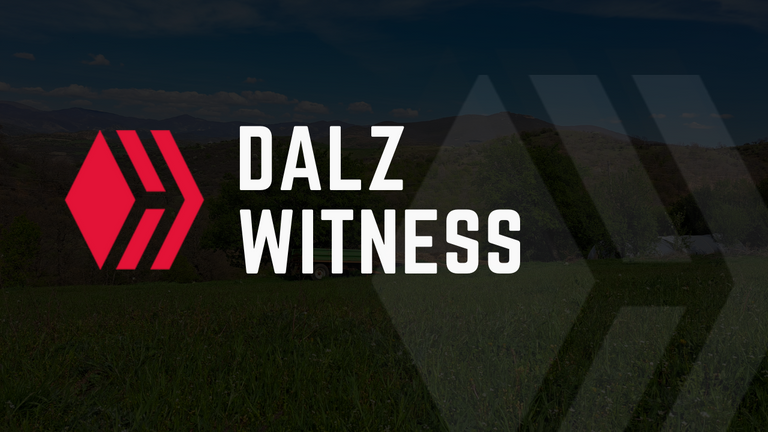 I'm now running a witness node thanks to the service that is provided by Privex and @someguy123.
After more than four years grinding on the Hive blockchain, providing data, digging into the complex Hive ecosystem, collaborating with different individuals and projects I decided to run a Hive witness node.
This will be a long term commitment of mine and I plan to run the witness for a long time.
I plan on expanding on the witness side as time progresses providing back ups and making the node more and more reliable.
This ecosystem has provided me with a lot of opportunities and overall chances to grow so this is in a way for me to step up my game and give something back.
I believe that having more witnesses is only better for the chain, enriching the ecosystem when there are more reliable backup witnesses, even if the incentives are not there instantly.
What can you expect from my witness node?
As the number one job for a witness is to secure the chain and produce blocks, this will be the main commitment for me as well. Securing the chain further, producing blocks regularly and not running any type of malicious scripts that can do harm.
Maintaining the core value of the community through decentralization, censorship resistance and inclusion for everyone.
My personal feature plans for the chain
I would like to step up my game at some point on the development side as well, creating projects or taking a part of some existing ones on the chain. Time constraints are always an issue here as I still grind my day job, and since recently I have an expanding family 😊.
But as mentioned I'm here to stay, and as time progresses, things and skilz will keep adding up.
Constantly growing my Hive stake is for sure on the roadmap!
---
If you think I have added value to the community in the past and might add some more in the future you can vote my witness here:
Thanks for your support!
@dalz
---
Beneficiary for the post reward @hive.fund
---
---