Take the time to build the content foundation, then add formatting.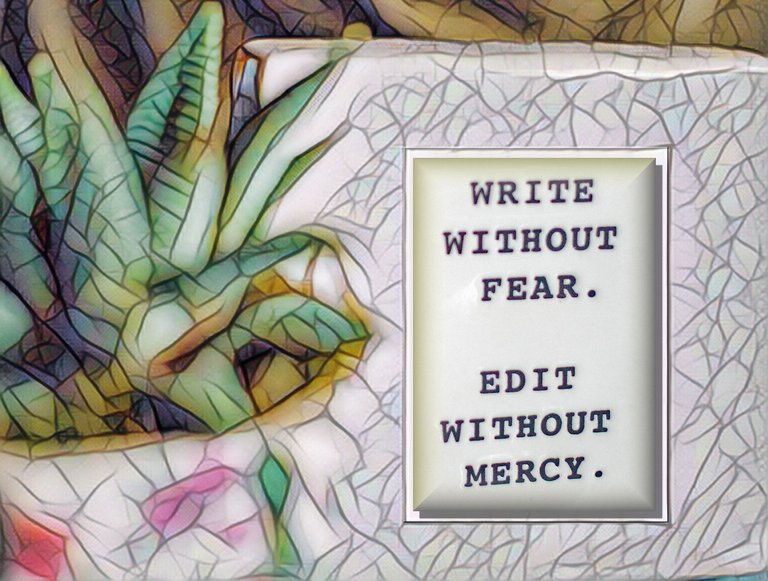 Do you get into a hurry to release your writing? I often do.
I take about 20 minutes to write a 1,000 word article. Another hour to polish the writing and then I format for posting. Why so long? Writing words is just the first step. When I get a flow of ideas, I just let them flow. Words are diamonds in the rough. They need polishing.
I do all my writing in Scrivener, a piece of software designed for authors. Its power is organising the writing of books. They designed it for that purpose. I use it to keep myself organised, writing articles and researching. I strongly suggest not writing directly in the editor where you will post. Writing in your own editor means you have a permanent record of your work to use as you wish. Also makes it easier to use editing tools.
My Editing Process
By the time I finish editing a piece, I'm sick of the sight of it. That's not bad. It means I've spent the time to polish. On the first pass, I get rid of the redundant ideas I threw in as I wrote. Well, they seemed like I good idea when I wrote them. Be willing to kill your babies.
I look for spelling errors, missing words, and misplaced homonyms. You know the homonyms like; "to, two, too" or "there, their, they're". They are easy to mess up. The words sound the same. Using the wrong one tells the reader you are not paying attention.
Using Editing Software
Next, I take the content into editing software. Started out using Hemingway. It helped me discover grammatical errors, overall structure and language level. I have a habit of writing long sentences. Difficult to read sentences. Hemingway was great for catching them.
I heard good things about Grammarly. I liked it and found it worked to catch a lot. To get the full benefit, I'd need to go with the pro version. That's more money than I wanted to spend. I started seeing good things about ProWriting Aid.
My preferred editor is ProWriting Aid
I liked ProWriting Aid. There is a free version which will catch a lot of errors. One of the first features drawing me to the program was the integration with Scrivener. ProWriting will open Scrivener and present the editing tools. I do my editing, save it, and the work is available in Scrivener when I open it. I love that feature.
The paid version has a great range of reports I can access to polish my work. Two of my favourites are the readability and stickiness reports. Together, the two reports challenge me to tighten up my writing.
When you read a piece out loud, you can catch poor flow by noticing when your words don't sound right or you lose the flow. ProWriting takes the exercise to the next level. The exercise can frustrate and consume time. I find when I stick to it, my writing flows better and often ends up being shorter as I cut the fluff. Word flow is one of the subtle yet important aspects of an article.
Even with editing software, you still have to do the work
I can put words together in a decent order. I can organise thoughts and points in a post. If the way I present them leaves the reader staggering and confused. I've just wasted both of our time.
Remember, editing software can help you improve your work's structure. It can't help you write in your voice. It can make you more aware of weaknesses when you're writing. It doesn't determine the details you're presenting or your voice. That's your job. Don't blindly accept changes the software suggests.
I'll share how I format articles in another post. If you don't write a good article, all the formatting in the world won't help. The content needs to be your best work. It's the solid foundation you offer to your readers.
Image source: Unsplash

*Shadowspub is a writer from Ontario, Canada. She writes on a variety of subjects as she pursues her passion for learning. She also writes on other platforms.
She created Prompt A Day to share with others. You can subscribe to Prompt A Day for a set of ideas in your inbox every day.*