A Recession Will Bring Crypto Mainstream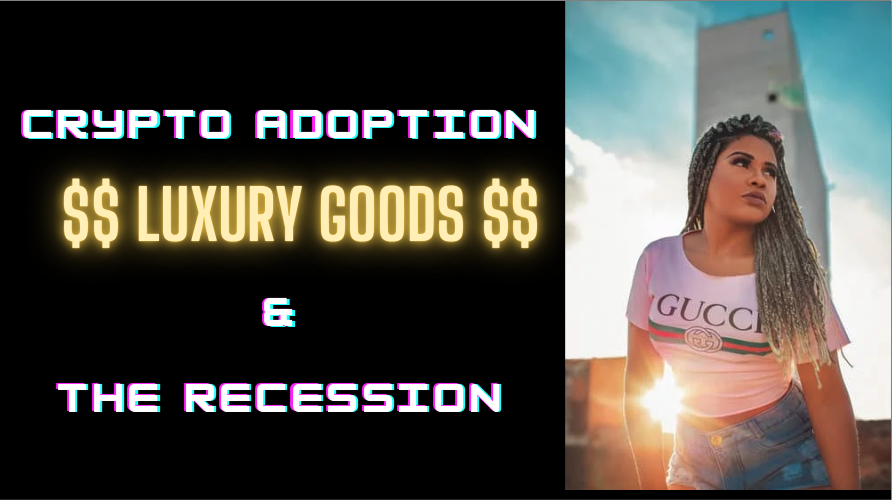 I know a lot of people in crypto believe eventually people will turn on the banks and usher in the crypto era. A recession or worse could certainly hurry that up but that's not what I want to talk about here.
Unless there's an absolute collapse -which would likely bring down crypto's infrastructure anyway- the size of the group who moved over to crypto wouldn't have us reach the mass adoption tipping point.
However, something is happening right now that is going to push it further and that will accelerate in the face of a recession.
Luxury brands are falling all over themselves to accept crypto.
It makes a lot of sense right? There are a lot of people who have gotten rich on crypto and if you're Gucci, you want to validate those new rich beliefs by making it a point to accept them and what they believe in.
Not just say we accept crypto now, but make a big deal of it.
But what does this have to do with a recession?
Believe it or not, recessions are usually pretty good for luxury brands. Mostly because they know their customer so well and they know what levers to pull when the pocketbooks get reined in.
Recessions are a time when people reconsider what money means to them and so brands that revolve heavily around wealth often use these times to reinvent themselves which pulls those customers in and sets the tone for those brands for the next economic bull run.
Last time it was social media and marketing their heritage. What's their trick this time as we edge closer to possible recession? Move away from heritage toward embracing crypto, tech, and the future. Bring in the new rich customer. Give them something in the real world to spend it all on in a conspicuous way and again, affirm their beliefs in the new vision of society and the tech that brings it in.
The art houses are already heavily into digital art and the metaverse. Nike is selling $500k pairs of digital shoes. Celebrities are embracing the apes. Luxury brands will bring it fully around because:
Crypto is the new black.
OK but who cares right? The whole point in luxury is that it sets the luxury shopper apart from the rest of the masses. By definition this doesn't matter for mainstream adoption.
What luxury goods makers are saying though is crypto is also a luxury good and it is to be associated with luxury. And if we think about it, while there certainly are ways crypto is helping the poor and underbanked, to be able to trade crypto and NFT's in most of the world is a luxury.
But Crypto isn't a $2000 pair of shoes you have to be really wealthy or really irresponsible with credit to afford. It's something anyone with any savings can jump into but which has the ability to be branded.
Crypto is being pulled into what could be considered the modern "court culture".
And what do trendy people do? They mimic the court as publicly as they can until its normalized.
The fact that crypto is both accessible and associated with modern court culture is the most likely catalyst to catapult it into the mainstream with both consumers and other retailers and do it in a way that will cause normal people to want to participate.
I know a lot of people who have been waiting for retailers like Walmart to accept crypto because they felt like that would usher in mainstream acceptance but honestly, what non-crypto person was going to open a coinbase account and buy eth or whatever just because Walmart would now take it? They would just keep using their credit card like always.
Even the crypto people who want the big retailers to accept it would most likely not use it at a big box retailer because they don't want to spend their crypto.
But what if spending crypto becomes a status play?
Status is the driving force behind most of what people do. Attach something to status and it will become revered or stigmatized, chased or repelled depending on whether its status positive or status negative. People do silly and ridiculous things if they feel they can elevate their status even for a moment by doing it.
Status is almost always what mainstream adoption of anything is about.
I mean, your granite countertop is ugly but do you care? Nope. Because status.
And of course to spend crypto people have to know something about crypto. They have to be involved in it in some way. They'll probably start thinking about how you can make money in the space. THey'll probably look to other signs of status like having the right NFT. They'll probably get all self-righteous about web 3 and its many missions.
Oh and yes, there will also be a group of people who adopt it because they get a new found hatred for banks. Could you imagine a new Occupy Wall Street but this time with way more access to social media and their own tokens and NFTs?
That's adoption by the conspicuous rich, adoption by the trendy, adoption by the retailers, adoption by the crazy far right, and adoption by the crazy far left.
It's coming and it's coming soon.
Posted Using LeoFinance Beta
---
---