NFT for Peace - Feedback and new city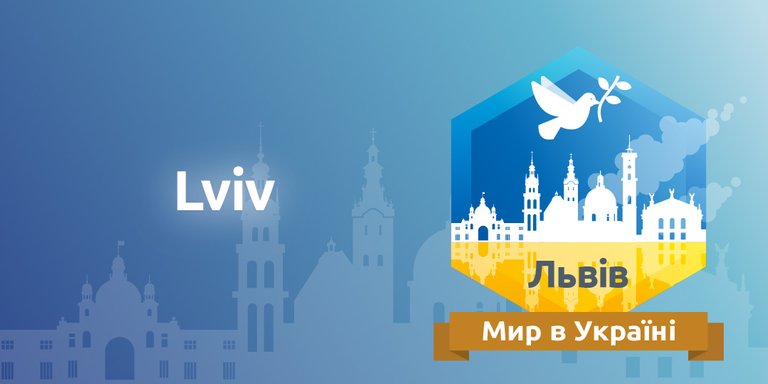 Two weeks ago, we launched our "NFT for Peace" initiative to help the civilian populations who are victims of the war that Russia is currently waging against Ukraine for a long month. If you missed the post, please read it here.
Feedback from the fundraising
We only have two words in mouth:
Thank you - Thank you - Thank you !


In just a few days, we have already collected 2650 HIVE and 3341 HBD!. Together, that's over $6000 raised in just a few days. This is simply amazing!
We would like to especially thank @blocktrades who bought all the NFT available at the highest price, contributing alone to more than half of the funds requoted.
Thanks also to the hundred other users who have bought or who continue to buy NFTs:
@arcange, @gamer00, @m31, @bowess, @tattoodjay, @detlev, @silversaver888, @jerrytsuseer, @mintrawa, @loonatic, @motionup, @brumest, @bulldog-joy, @achimmertens, @deepresearch, @condeas, @zirochka, @edb, @notaboutme, @johannpiber, @livinguktaiwan, @luvshares, @ewkaw, @dreemport, @hivebuzz, @soluce07, @nelinoeva, @tommyl33, @fermionico, @erikah, @forykw, @dreemsteem, @beststart, @bighungrypanda, @burn950, @chaodietas, @arkasz, @bambukah, @blackzoda, @doze, @browery, @corvidae, @cryptosimplify, @kobusu, @lesiopm, @epodcaster, @elevator09, @flemingfarm, @florian-glechner, @iamraincrystal, @harlowjourney, @heroldius, @heros, @steevc, @ynwa.andree, @phoenixwren, @pl-travelfeed, @silviabeneforti, @samsmith1971, @scoutroc, @seckorama, @perceval, @stayoutoftherz, @steem82868, @ravenmus1c, @rcaine, @nelthari, @ninahaskin, @thekittygirl, @traciyork, @wesphilbin, @yintercept, @insaneworks, @jacobpeacock, @jeanpi1908, @elianaicgomes, @elizacheng, @lesmann, @libertycrypto27, @lifeskills-tv, @littlebee4, @jfang003, @jfuji, @jjprac, @justclickindiva, @kingneptune, @mizuosemla, @dbooster, @crrdlx, @cooperclub, @drabs587, @eddwood, @bbqgriffinwings, @arthursiq5, @adacardano, @akumagai, @appalachain, @ciderjunkie, @blackdaisyft and @biggerjoe
For people who are still in the besieged cities and those who stayed to help them and with whom we are in contact, it is huge and you cannot imagine how much your support means to them.
Without wasting time, we have sent on regular basis the majority of the funds received to our contacts on site:
You can check @hivebuzz-ua wallet for full details
The recipients of the funds have of course provided us with a report of the use of the funds they have received, which you will find here:
Adding a new cities to the list of NFTs
Since several days, Russia has intensified its bombardment on the city of Lviv and our thoughts of course also turn to these populations who now also live in fear.
From then on, our designer went back to work to create an additional NFT dedicated to this city that will now appear on your page.
You can see it on the cover of this post.
One last word
Here are a few words @zirochka taken out of her posts. They perfectly sum up how we would like to conclude this post.

@zirochka
Thanks to all who bought NFT FOR PEACE! Your donations helps people right now!

Thanks for your big hearts and incredible support! We can save lives. Indeed, we're already doing that.

Thank you! 💛💙
---
HiveBuzz is a project created by @arcange
---
---