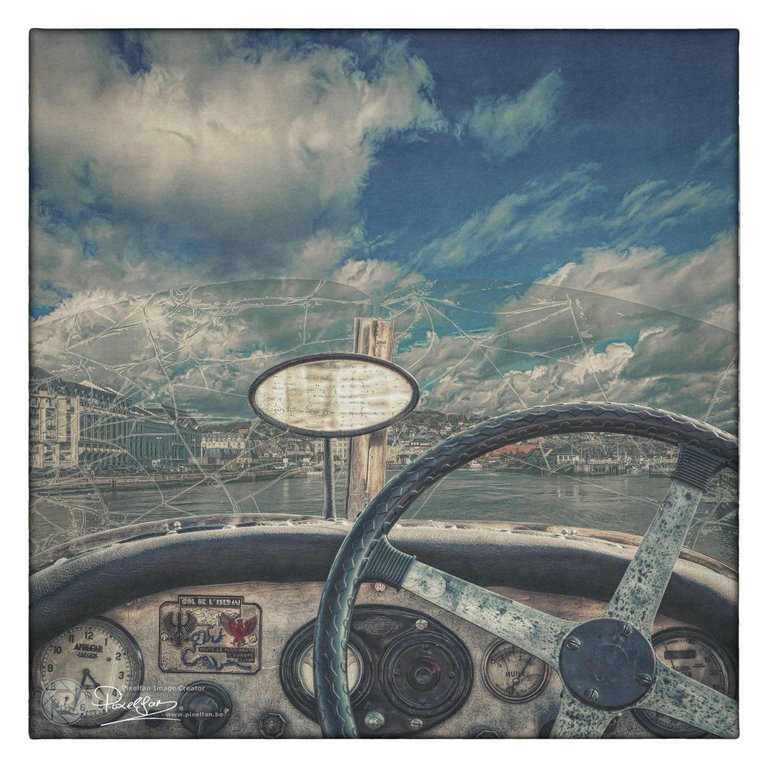 ... we can't go on vacation that we should stay at home.
The perfect solution for this is ... virtual travel!
Nothing but benefits. From one moment to the next you are anywhere in the world. You don't waste time traveling and / or planning, you are safe, you return when you want, there is always room ...
But the most important thing is that you don't have to worry about details!
Like here for example ... it doesn't matter if you can drive the car there or not ... it doesn't even matter if your car can float ... you just go! Ah, that freedom ... 😉
And for those interested ... the city in the background is the French seaside town of Trouville, shot from, uh, well, the water ... 😊
---
You like this Vintage Travel Series?
I surely do 😊 I like it that much that I continue creating new images with different cars, bikes and places. If you're curious about the images I posted here before, just click on the thumbnail to see the original post...
---
---
BTW: all cars (or bikes) used in these pictures are real and existing. I don't own those cars but did spot them during my hikes and decided to shoot them because they're just good-looking or original or vintage. This doesn't mean that I shot them on the same place as in the final picture… as a matter of fact, they never were there…😉 The places in the pictures are mostly interesting or original places… but not always car-friendly 😂
As a final note… I can guarantee that no car or bike has been hurt during the picture-shoot…Please, don't forget to resteem if you like my Vintage Travel series... I'm sure others will like them too!
You liked this post?
Right you are 😉
Just follow me here to make sure you don't miss any new work. As you can see below, you will be in good company... my 3 skinny friends are waiting for you 😉


BTW: I will not ask you to upvote my posts… deep down inside you know you have to 😉
Curious to see my other work?
Although I spend most of my time here, you can also find me in other places… just take your pick…